HUMAX USA INTRODUCES FIRST 300 HOUR TIVO SERIES2 DVR

New Humax DVR with TiVo Provides Maximum Storage Capacity for the TV Enthusiast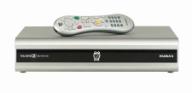 Santa Ana, CA, July 13, 2004 – Humax USA, the "Easy-Digital" company, in its partnership with TiVo Inc., creator of and a leader in digital video recording services (DVR), today announced that the first TiVo Series2 DVR with 300 hours of recording capacity will be available this month at retailers nationwide.

The T2500 TiVo Series2 DVR will debut along with an 80-hour unit, the T800, at a number of select independent retailers and regional chains nationwide including Good Guys, Circuit City, J&R Music and Computer World, Amazon.com, BestBuy.com, Electronics Expo, and Vann's. With a focus on simplicity, elegant industrial design and ease-of-use, the T2500 and T800 will have an MSRP of $699 and $299 respectively.

Both models will run the TiVo service, giving subscribers the ability to control what they watch and when. With exclusive TiVo features including Season Pass™ and WishList™ searches, viewers can easily find and record their favorite shows whenever they're on – even skipping repeat episodes.

TiVo recently announced that Series2 subscribers can now take advantage of new Home Media features and online scheduling as part of the standard service package for $12.95/month.* These new features will enable subscribers to schedule recordings from any internet connection and move content between two or more TiVo Series2 boxes in the home such as the T2500 and T800. Other features include the ability to listen to digital music and view photos stored on their PC in the comfort of their living room on their home entertainment system. With the Home Media features built in to the service, subscribers can now enjoy other digital content the same way they enjoy television with the TiVo service.

Humax USA's Sales & Marketing VP, Tony Goncalves says "The T2500 and T800 are the first of many ground-breaking home entertainment products that Humax is committed to bringing to the US market. We're very excited about our partnership with TiVo and are especially proud of the confidence we've earned with these retail powerhouses in such a short period of time."

Consumers can find a complete list of participating retailers at www.humaxusa.com.

High-resolution photography of the T2500 and T800 is available for immediate download by visiting www.mutocomm.com/presslounge or by contacting Muto Communications at 631.390.0218

About Humax
Founded in 1989, Humax Co. Ltd of Korea is one of the world's leading digital satellite set-top box manufacturers, exporting its products to more than 90 countries across the globe. Listed on the Korean stock exchange (KOSDAQ), the company's international headquarters and R&D facility are based in Korea with offices in Dubai, Germany, India, Italy, Japan, the UK and the US. In 1997, the company opened a manufacturing facility in Northern Ireland that won a Queen's Award for Enterprise: International Trade 2002. Further production facilities are planned in India and China. Humax recorded revenues of US $298 million in 2002 and has announced plans to increase this figure to $1 billion by 2006. Humax's US headquarters are located in Santa Ana, CA. For additional information please visit www.humaxusa.com or phone toll free – 1-866-HUMAXUSA.

About TiVo
Founded in 1997, TiVo (NASDAQ: TIVO), a pioneer in home entertainment, created a brand new category of products with the development of the first digital video recorder (DVR). Today, the company continues to revolutionize the way consumers watch and access home entertainment by making TiVo the focal point of the digital living room, a center for sharing and experiencing television, music, photos and other content. TiVo connects consumers to the digital entertainment they want, where and when they want it. The company is based is Alviso, Calif.

* Pricing, terms and conditions of TiVo service are subject to change without notice. TiVo service is accessed through a standard telephone line and is available as a local call in most areas. In some areas, local and long-distance toll charges may apply.

This release contains certain forward-looking statements within the meaning of the Private Securities Litigation Reform Act of 1995. These statements relate to, among other things, TiVo's business, services, business development, strategy, customers or other factors that may affect future earnings or financial results. Forward-looking statements generally can be identified by the use of forward-looking terminology such as, "believe," "expect," "may," "will," "intend," "estimate," "continue," or similar expressions or the negative of those terms or expressions. Such statements involve risks and uncertainties, which could cause actual results to vary materially from those expressed in or indicated by the forward-looking statements. Factors that may cause actual results to differ materially include delays in development, competitive service offerings and lack of market acceptance, as well as the "Factors That May Affect Future Operating Results." More information on potential factors that could affect the Company's financial results is included from time to time in the Company's public reports filed with the Securities and Exchange Commission, including the Company's Annual Report on Form 10-K for the fiscal year ended January 31, 2004, filed with the Securities and Exchange Commission. We caution you not to place undue reliance on forward-looking statements, which reflect an analysis only and speak only as of the date hereof. TiVo disclaims any obligation to update these forward-looking statements.

TiVo and the TiVo Logo are registered trademarks of TiVo Inc. in the United States and other jurisdictions. TiVo Series2 is a trademark of TiVo Inc. All rights reserved. All other company or product names mentioned may be trademarks or registered trademarks of the respective companies with which they are associated.